Notes and Internal Communication
Find out what's new in BidClips
You can now see information regarding new features, critical updates, or other pertinent information posted about the BidClips platform directly from your portal session.
When new updates are available you will see a bouncing red counter over the profile ("face") icon in the upper right corner of the screen. To view the newly updated posts:
1. Click on the profile icon
2. Select the "What's New" option from the drop-down list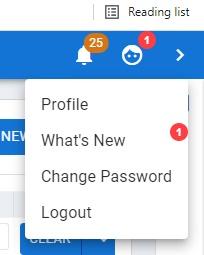 3. Simply scroll through the posts to view the latest updates which will likely have screen shots, videos, and/or related help center article links.