Learn how to feature services on the BidClips widget and make it easier for your customers to find your top offerings.
The 'promoted services' feature helps your website visitors to request specific services from your website. This helps you seamlessly collect all the necessary information you need for that service.
With promoted services, the widget will highlight the services and allow customers to select without them having to type anything into the search bar. This helps your customers visualize some of the services you offer and more easily find your popular offerings.
Below is what the promoted services feature will look like on your widget.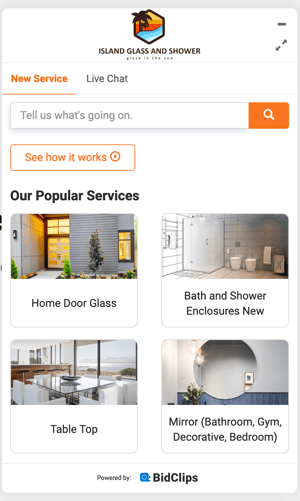 How to promote services on your widget
Login to your BidClips provider platform
Navigate to 'Services' on the left side menu
Click on the service that you want to promote
In the right-hand corner of the screen, click on the toggle to change it from 'Not Promoted' to 'Promoted'

Note: Service photos are currently set by the BidClips team. If you feel the chosen photo does not reflect the service please reach out to our team.
Thank you for using BidClips. If you have any other questions or feature suggestions, don't hesitate to reach out to our support team. We'd love to hear from you.