Learn more about Customer Information Questions and how to add them to the journey template
What is a Customer Information Question?
A Customer Information question within a Journey Template asks the customer several demographic information: basic contact information (first/last name, phone number, email) and service address.
Some key things to know about a Customer Question are:
is that it has two options, Basic Contact Information and Address
The Address option allows you to specify whether you will show the customer a map option only or a map option which can be manually enhanced in modifiable postal address fields.
The postal address option cannot stand alone. That is, the map option must be selected if you want to provide the postal address option.
You cannot create/save a Journey Template in BidClips without having a Basic Contact Information option included in the template, and it is always mandatory.
Creating a Customer Information Question
While in Journey Template edit mode:
Use the right scroll button to reach the end of the Journey Template

Click on the "+" slide

Select the Customer Question type from the available options, and click 'ADD'.

Information Type:
After adding the Customer Question, you will be presented with two options in the Information Type section: Basic Contact Information or Address. Select one of the two options from the drop-down list. Both options are described in more detail below.

Basic Contact Information
The first option is "Basic Contact Information", this option will require the customer's first/last name and either a phone number or email to be provided as a Journey Template answer. Having a Basic Contact Information question type is a prerequisite for saving the Journey Template.

Address
The second option is the "Address" option. This option will cause a different list of properties to appear:
Address Type
Address Title
Map/Postal Address Options

Postal Address: Manually entered by users and will read as an address text.

Map Location: This will show the location on a map.

Required?
Tip for the Question
Tips can be created using BidClips text editor and can include formatted text, images, videos, pdfs, or web links. These are tips visible only to BidClips provider users, located next to the Journey Template questions, designed to assist members of your team when interacting with your customers.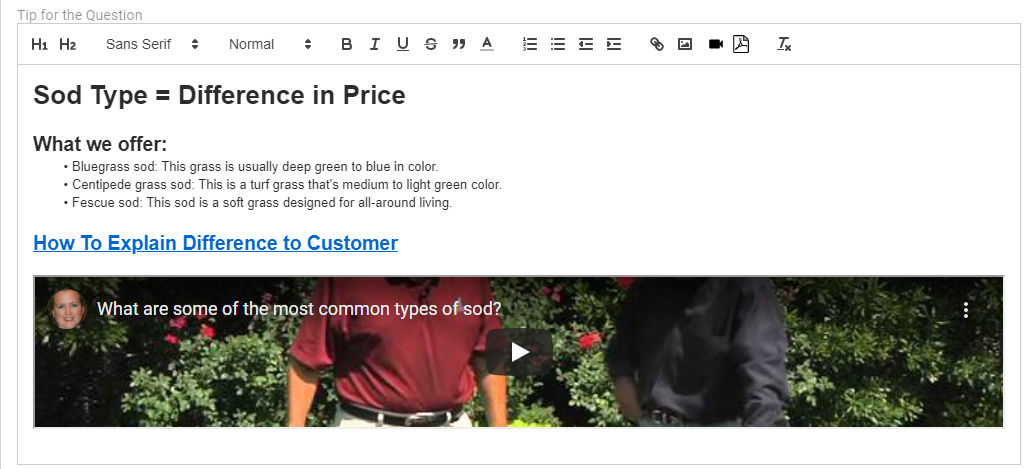 Visibility Rules (Address Type Option Only)
The form question can be: visible only to a user in your BidClips provider portal, visible only to a customer filling out information via the BidClips widget, or visible to both a user in your provider portal or a customer filling out the information in the widget.

BidClips provider portal visibility is noted with an orange "P" icon at the bottom of a Journey Template slide while editing.
Customer only visibility is noted with an orange "C" icon at the bottom of a Journey Template slide while editing.
Questions visible to both a BidClips provider user AND a customer using the BidClips widget is noted with an orange "CP" icon at the bottom of a Journey Template slide while editing.
Example of Basic Contact Question in Provider Portal:

Example of Address Question in Provider Portal (Map Only Option Shown):

Example of Basic Contact Question in BidClips Widget: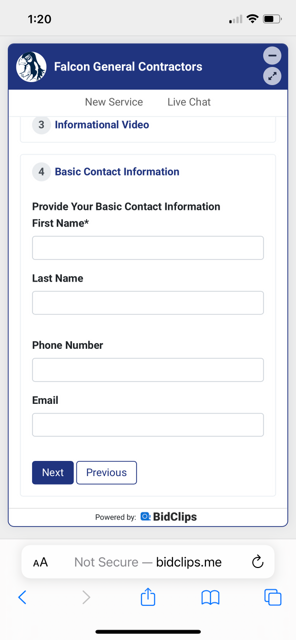 Example of Address Question in BidClips Widget (Map Only Option Shown):