Learn how to add your Google reviews URL to BidClips to start collecting reviews after a job is completed
Many home service providers rely on Google reviews for local SEO and to build trust with future customers. BidClips make it easy to send follow-up email and text messages to remind customers to submit a review about their service. Below we will discuss how to utilize this feature in BidClips.
Add your Google My Business short URL to BidClips
The first thing you need to do to use the Google review feature is to locate and copy your Google review short link. To find this link, please follow the directions in this article in the Google My Business Help Center.
How to add the short link to BidClips
After you have copied the short link, open the BidClips platform, and navigate to the Shops menu item.
Here, click the Shop Information icon ( ) and scroll down to the Google Review Page URL section.
Copy the Google Review short URL into this field.
Now, the communication template is ready to be activated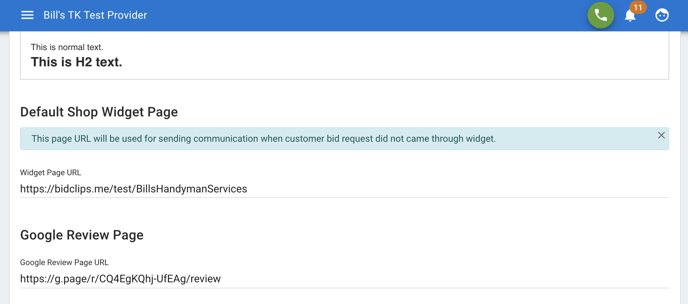 Sending the Google Review email and text template
The next step in this process is to trigger the email and text template to go out to customers after the job is complete.
In order to send the Google review communication template, you will need to start by navigating to the Job menu item.
Here, choose the completed job from the menu
Next, set the Job Status to Complete when you have finished the project
This will trigger the email and text to be sent to the customer
Thank you for using BidClips. If you have any other questions or feature suggestions, don't hesitate to reach out to our support team. We'd love to hear from you.